I was in cory heaven when I went in these places last week. It was the first time I'd ever seen so many different cories. They had other cats as well but cories are a favorite. Here's some pix of ones I have identified--I am posting many more pix in Ident-a-cat!
This guy was labeled as a bandit cat or c. metae
This one looks like a similis--I really wanted to buy some
Dainty cats or habrosus--so tiny, barely over an inch long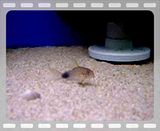 Short similis video--he's too cute!