Not to bring this thread back from the dead, but I thought an update on this tank would be in order, especially for those who are new to the hobby.
My first little 10 gallon tank, oh how I miss it
Ok on to the story, after purchasing my 3 little corys the did just great, but soon they stopped schooling and began to hide all the time. They would only come out at feeding time or at night and they would never stick together. I thought this might be a problem with the number in the tank or with their tank mates. I had after a few months added some Penguin (hockey stick) Tetras to the mix which were VERY aggressive towards eachother and would sometimes steal the corys sinking pellets to. Eventually I took them back and traded them for some rummynoses and a green fire tetra which were much more docile. Anyway, I also add 2 more C. leucomelas to my tank hoping a larger school would make my fish less shy. That didn't really work either, but I really enjoyed my little tank and I loved my little corys in it. I think my fish were happy and healthy, even in a little tank to. See the picture for my tank once I had my final set-up, complete with snails : ( .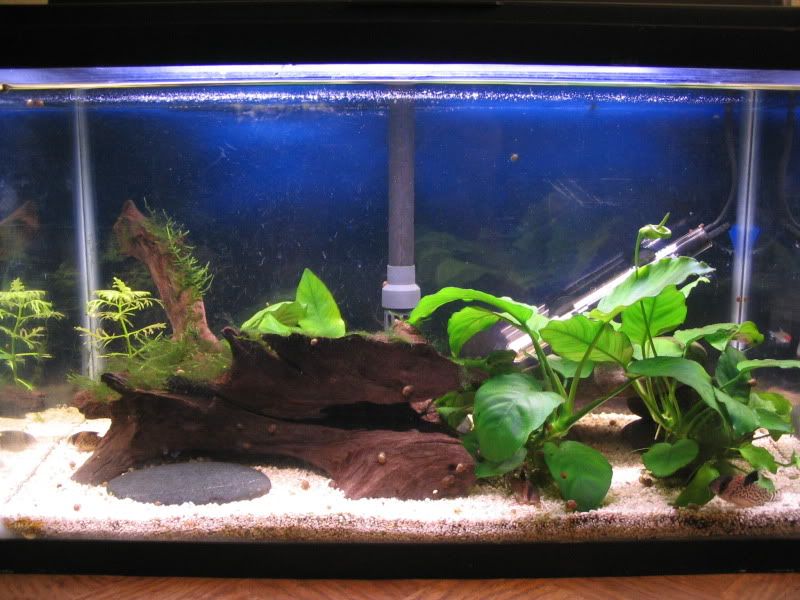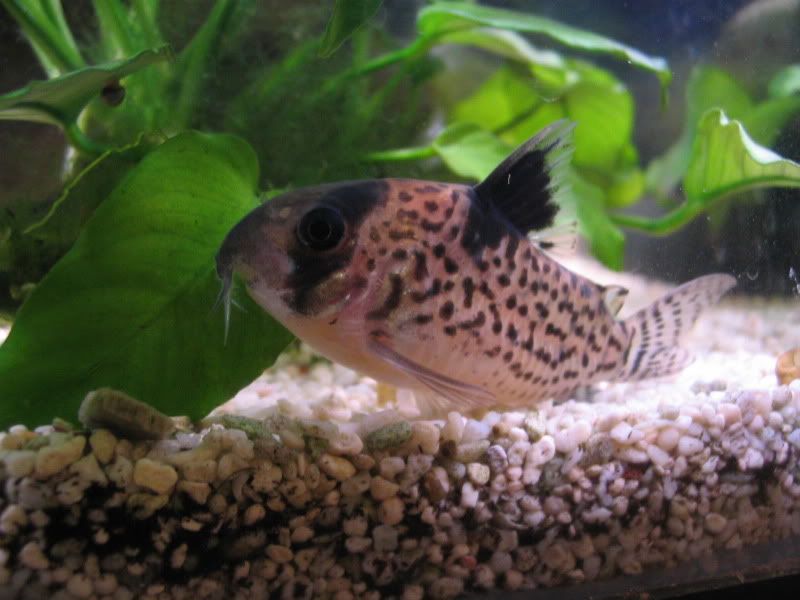 Then after keeping the tank for year and a half I made a big mistake. I went away to visit my parents and while I was away a huge storm hit my town. Power went out at my apartment for 3 days. I thought my fish would be ok, I had fed them well and I thought they could handle it, but what I forgot to think about was the temperature. Turns out my apartment got down around freezing without the power on that time of year, and alas when I got home all my lovely fish were dead.
Since then I have not kept any fish. About a week later the tank sprung a leak and I gave it to a friend of mine. I learned some very important lessons from my little tank that I think might help some of you out there starting off in the hobby.
1) Small tanks = lots of maintance (I did weekly water changes but to clean the whole tank would usually take 50% of the water out and the tank did look dirty at the end of each week)
2) "Nice" Fish- I had read online that Penguin tetras (Thayeria boehlkei) were peacefull. Well maybe in a bigger tank with bigger fish to worry about, but these guys became bullies to one another when they have the run of the tank. This is probably my fault for having them in such a small tank, but I couldn't continue watching them fight so I took them back. Last time I checked they were happily living (and getting along in a school) at the local fish shop in a large tank that is used as a display tank.
3) Snails- I had a ton, and having a snail tank is no fun. Next time I'm going to really try for no snails.
4) Plants- I had a very hard time keeping plants grounded in my substrate. Never did find a good solution.
5) Burn-out- I spent TONS of time think about what I would do next with my tank. But then the day came when I couldn't fit any more fish in the tank and it was complete. This took a lot of the fun out of the tank. I still liked keeping fish, but the thrill of the new had washed off. I know this happens with most pets that aren't dogs or cats, but I thought that "new" feeling would last a little longer. I think this is important for new hobbiest to consider. Buying that 50 gallon tank that will hold a ton of fish is great at first, but you might get tired of it fast.
6) Happiness- It's not all bad lessons I learned, I loved my tank and I really do miss it. My first adventure into the hobby failed, but I really did enjoy keeping my corys.
Well I guess that is it. I'm thinking of starting a new tank which I'll be posting my ideas in a seperate thread. Once again I would like to thank everyone on this website for all of their help.